Management
Your established team with full grower support, experienced orchard management and a post harvest service you can trust.
Seeka's orchard management services are developed to drive your orchard profitability. Services offered can be tailor made to suit particular grower requirements, ranging from full management to vine husbandry only.
Working with your orchard manager, a detailed management plan and working budget is developed to ensure your property reaches its full potential.
Your plan is built around your specific needs and includes such factors as shelter, soil, vine and crop management and compliance.
Regular meetings plus quarterly budget reports ensure you are kept fully informed and in control of your investment.
Seeka's orchard management programme means you are actively involved in decision making while not having to do the day-to-day work to get the job done — you can even take an extended overseas trip!
BENEFITS:
Flexible, 'tailor made' service
Yield driven orchard management plan
Detailed financial budget
Regular and detailed invoicing of costs to the grower
Regular contact with your orchard manager
Dedicated orchard team providing a total year-round service
Applying the best technology to drive production
Modern fleet of equipment
Dedicated technical support and service centre
Attention to all compliance requirements e.g. Globalgap, Zespri Kiwigreen, Health & Safety
"The complete grower solution"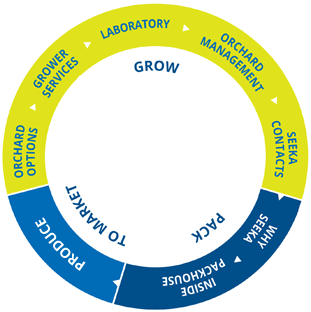 Seeka Key
Contacts
Simon Wells
Jonathan Dixon
Hans Dirkse