Psa
The bacterial disease Pseudomonas syringae pv actinidiae (Psa) was first found in New Zealand in October 2010. Most likely it arrived from China in a consignment of flower parts.
The Psa variant which arrived in New Zealand developed in a very similar fashion on the Gold variety (Hort 16A) as it had in Italy a year or two earlier: symptoms of small, sharp-edged necrotic leaf spots followed by wilting of new shoots and development of oozing cankers leading to widespread canopy death. Symptoms were minor on the other varieties in the first season but in the second leaf spotting (but not shoot death) was widespread on Hayward vines and especially Hayward males. Subsequently widespread death of buds just prior to flowering has been strongly linked to Psa on several varieties.
All these symptoms have been found to vary according to seasonal weather and kiwifruit variety but by the end of 2013 Psa had spread to all kiwifruit growing regions in the North Island. In the last three seasons almost all Hort16A production has ceased in the Western Bay of Plenty. There has been widespread re-grafiting: some to Hayward, which is more resistant/tolerant of Psa than Hort16A, but mostly to the new Zespri gold variety G3. This later variety certainly develops Psa symptoms but, through 2013 and 2014, many hectares have been grafted and brought to production.
Currently the kiwifruit Industry is learning to manage our existing kiwifruit varieties in the presence of Psa and varying seasonal weather.
Seeka's response
In response to Psa Seeka initiated the establishment of a microbiological laboratory at VLS to assist with Psa identification and undertake research. After the first few months the Psa bacteria was categorised into two variants: one extremely virulent and one which caused spotting but no other symptoms. Discrimination between these strains was slow and unreliable – a few samples took several weeks. Our new laboratory lead the way in developing a new test to distinguish between these variants and within a few months were able to handle hundreds of samples per week for the industry using a Quantitative (or real-time) Polymerase Chain Reaction (qPCR) process.
We have subsequently undertaken numerous laboratory and field research projects for KVH/Zespri screening products for efficacy against Psa and looking at processes around the spread and ecology of Psa in orchards.
For any queries around Psa please contact our KVH liason, Peter Weaver.
"The complete grower solution"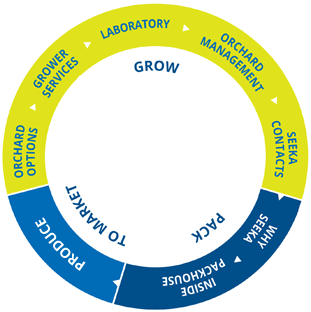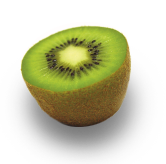 Seeka Key
Contacts
Simon Wells
Jonathan Dixon
Peter Weaver